The Beginning.
Description: 18×24 oil on canvas.
The pumpkin is the first still-life painting I did in the class I am currently attending. I chose a pumpkin because I didn't want to do a bowl of fruit. Lol.
The original is not for sale.
---
About Greg Pruett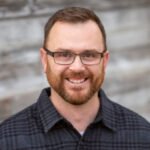 In 2022, I began painting because I wanted to create something unique for my family members. I wanted to be able to pass something meaningful along to them. Additionally, I wanted to create Christian and political paintings. I currently take oil painting classes from Diane Myers.