This year is one of the most frustrating and mind-blowing years I have seen as a 2nd Amendment advocate.
Joe Biden, the Democrats, and a number of RINOs in Congress are shoving gun control into our faces at a very alarming rate. There are more gun control proposals now than I have seen in many years and there is a good chance some of it is going to pass.
With all of that going on, you would think that the Idaho legislature would leap at the opportunity to push House Bill 300, a bill sponsored by Sen. Christy Zito (R-Hammett), that would help fill gaps in our "Second Amendment Protection Act" that currently exist in Idaho.
Instead, I am hearing that House Speaker Scott Bedke wants to update and re-publish a letter the establishment shared a few years ago.
That letter told Idahoans how awesome the legislature has been for the 2nd Amendment. It was a summary of some of the bills they had passed at the time.
They shared this letter throughout various districts across the state.
Okay, great. What does that have to do with HB 300 and its necessity?
First, let me be very clear, no one is arguing that Idaho doesn't have the best gun laws in the country and we are not saying that the Idaho House or Senate is full of anti-2nd Amendment legislators. What I am saying is that some of them are severely misguided in their desire to block HB 300.
And yes, Idaho has some incredible laws in place right now to protect the right to keep and bear arms.
Idaho is currently ranked #2 (although statistically tied for first) on the Guns and Ammo ranking system for the most "friendly" firearm states in the country. When the Idaho Second Amendment Alliance started back in 2012, Idaho was ranked 32nd!
We have Constitutional Carry, open carry, very few places you can't carry, a decent firearm preemption law, a pretty solid Idaho Constitutional right to keep and bear arms, and most of the Stand-Your-Ground law that we need. 
Does that mean that we don't have ways that we can improve on our right to keep and bear arms? No!
Does that mean that we are supposed to sit back and do nothing? No!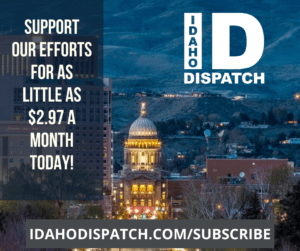 We are in a war, and when you are the most powerful army in the world do you just sit back and say, "Well, we have the best army so there is no need to worry about anything now."
I was lucky enough to be a member of the Idaho Army National Guard and a proud member of the United States armed forces. 
The U.S. military is the most powerful fighting force in the world. Our equipment is better than any other country on earth. 
Does the U.S. military constantly train and look for new ways to gain an edge over their enemies? Yes, they do! Does the U.S. military just tell themselves that nothing needs to be done because of all the previous accomplishments they have had in battle and new advances in equipment? No, they don't!
The U.S. military, despite its advances in technology and victories over many enemies in battle, is constantly inventing new weapons and new strategies for dealing with enemies who want to destroy us. 
It would be idiotic for our military to sit back and do nothing in the face of enemies who are changing their weapons and tactics. 
Why then do some in our legislature insist on treating our right to keep and bear arms differently when our enemies are doing everything they can to destroy us?
Yes, Idaho is an incredible state for gun owners to live in but the laws we have now are not complete and some of them have had holes poked in them by the courts.
The liberal 9th Circuit has already poked several holes in Second Amendment Protection Act laws. Idaho's laws that were passed in 2010 and 2014 are great but the courts have already said that portions of our laws won't work based on opinions issued against a similar law in Montana.
HB 300 is designed to help fill some of the gaps from the 2010 and 2014 laws. No one is trying to take away what was accomplished in those years.
However, the attorneys who drafted HB 300 have told us that what we have now won't work and won't hold up in court so we have to adapt and change our strategy. They have told us that we must get new weapons in the fight to keep and bear arms. 
Alexandria Kincaid and Don Kilmer did an entire presentation at the capitol to explain why our current laws won't work and why HB 300 will help us in future court battles.
You can view the presentation here:
How many legislators will take the time to educate themselves and watch this presentation?
Has Speaker Bedke watched it? Is he going to so he can understand why HB 300 is so important? Who knows.
The legislature, if they block HB 300, is going to miss a huge opportunity to help gun owners. And at a time when gun owners need the legislature to step up, this is bound to have a lot of consequences.
Expect gun owners to use HB 300 as a key voting tool in 2022 and if gun control makes it into law, they will use it as a tool even more.