For several years now a number of conservative activists have been warning Idahoans that we are a target for the radical left.
What the left has done to Colorado, Virginia, California, Oregon, and Washington is already happening to Idaho. We have been attacked relentlessly by moderates and phony "conservative" groups as using hyperbole, lying, and scaring citizens for no reason at all. 
However, years of studying and watching what was happening in other states have shown us the enemy's blueprint. Our goal has been to warn Idahoans about the dangers of progressivism that have permeated our state and how the left intends to turn Idaho blue with the help of some moderate Republicans.
Additionally, Boise's socialist mayor, Lauren McLean, should be the last and final wakeup call you need to start fighting back.
First, if you have never seen the documentary "Rocky Mountain Heist" then I highly suggest you watch it.
Essentially, four very wealthy leftists took about ten years to flip the state of Colorado. Colorado was a state with a Republican governor, both chambers of their statehouse were controlled by Republicans, and both U.S. Senators were Republicans. 
Now, all of that has flipped "blue" and was accomplished in less than a decade. 
The same thing just happened to Virginia and the leftists are about to flip Texas blue. Idahoans know all too well about the states of California, Oregon, and Washington that have turned hard left in recent years.
All of those states used to be red or at least far less blue.
How is it then that some Idahoans don't think that what has happened to these other states can't happen here?
Unfortunately, one of Idaho's most recent elections has shown this is not the case.
In 2019 the city of Boise had a mayoral election.
Many Boiseans had grown tired of tax and spend Dave Bieter and were looking for a change in leadership. There was a relatively crowded field that ultimately led to a runoff election.
A relatively unknown city councilmember named Lauren McLean did not pull in the votes that she needed to oust Bieter and so the two faced off head to head. 
McLean crushed Bieter in the runoff and became Boise's next mayor.
Sadly, what many Boiseans don't appear to know is that McLean is far more radical than Bieter ever was.
I knew from my research that she was going to be much worse. 
McLean is a proud supporter of Planned Parenthood and earned their endorsement. She is also a big supporter of Moms Demand Action, the radical anti-2nd Amendment group.
Here is a picture of McLean at one of their events with radical anti-2nd Amendment legislator Rep. Melissa Wintrow.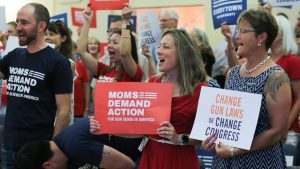 So, while I was not surprised by McLean's agenda once she was safely in office, many voters seem to have been. I've seen quite a few comments from people who were just tired of Bieter and they felt that McLean had lied about her agenda and beliefs.
Recently, McLean was asked if she was a socialist and she didn't bother to say no and instead dodged the question completely! Wouldn't any person not wanting to be considered a socialist immediately denounce the notion? McLean didn't and we all know why.
You can see the video for yourself below.
This feeling of deceit has led to a recall effort against McLean that is currently underway.
With McLean as the new mayor of Boise, her radical agenda and how she came into office are being questioned by citizens and groups across Idaho.
The Idaho Freedom Foundation has recently exposed McLean's working group which had come up with a radical agenda for Boise that would mirror the kind of radical agenda that we see in Portland or Seattle.
Additionally, the IFF also exposed McLean's ties to a radical left group called "Democracy Alliance" and the dark money McLean is taking in from wealthy donors across the country. 
This is how it all began in Colorado and Virginia. Wealthy donors started buying elections and flipped both states blue.
For instance, gun-grabber Michael Bloomberg poured millions into Virginia in recent years and the state is now going radically anti-gun.
In addition to radical mayors and legislators winning elections, these blue states saw leftist groups pop up to help drive the agenda for their leftist politicians.
These leftist groups are well-funded and well-organized.
As these groups grow and as the left wins elections, they begin to change the laws. They also got activist judges to make major rulings in their favor.
Does this all sound familiar?
Right now a leftist group here, Reclaim Idaho, is trying to turn the state blue primarily through the ballot initiative process.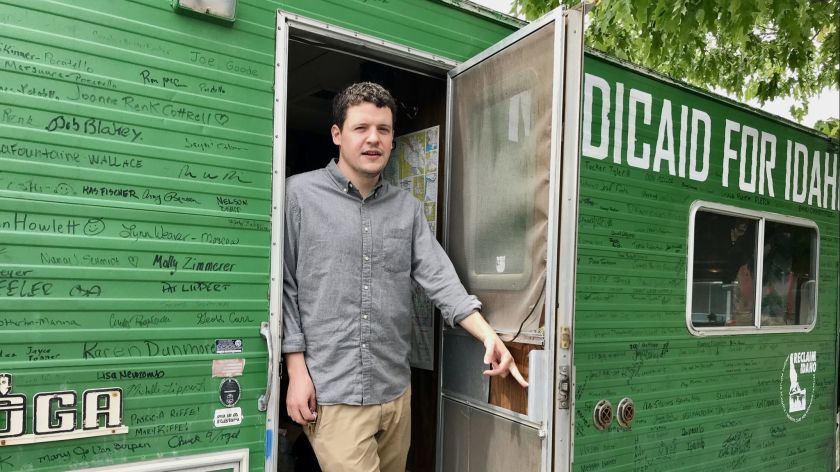 It took the United States Supreme Court to undo an activist judge's ruling that the group could violate Idaho's laws on ballot initiatives.
Reclaim Idaho already pushed Medicaid Expansion on Idahoans and were attempting to increase taxes to pay for more education funding.
The group's leaders also are frustrated that Democrats can't play a more vital role in the Republican primary in Idaho. Yes, you read that right. 
They want Democrats to be able to vote in the Republican primary. 
And there are other groups popping up across Idaho just like them and some with even more radical agendas.
Black Lives Matter started up this year in Boise and is quickly trying to defund the police department there. The organization nationally wants to destroy the nuclear family as we know it.
All of these issues should be a major wakeup call for Idahoans because time is quickly running out to stop it.
Perhaps the recall of Mayor McLean and radical leftist City Councilmember Lisa Sanchez will be the reaction Idahoans need to the leftist agenda in Idaho?
Finally, one of our biggest problems is apathy and moderate Republicans trying to undermine the threat before us.
Sure, Republicans outnumber Democrats for now in Idaho and maybe it stays that way for some time. 
Remember though, citizens in Oregon, Washington, California, Colorado, and Virginia all felt safe too. None of those states thought they would turn blue.
If you ask many of the citizens coming from those states, they will tell you they didn't see it coming.
Luckily for us, we know it is already happening and we can stop it or at least slow it down if we do some things differently than these other states.
Part of our strategy is ignoring the moderate Republicans who tell you all is well in Zion. Yes, they are going to mock you and say that you are only trying to drum up fear. However, where will those people be when Idaho is taken over by the radical Democrat agenda?
These so-called Republicans are trying to keep you in an apathetic state and not worried about what is happening.
They aren't fighters like President Trump against the media and radical left, they are enablers of them.
Moderate Republicans who aren't actively fighting the left are in actuality helping Idaho lose our fight against the progressives.
Despite the numerous attacks I take as an activist, I am not giving up. I know that you won't give up either and are ready to be in this fight together.
We are going to keep pushing forward with the goal of protecting Idaho. There is nowhere else to run.
Idaho is the "last stand" state for conservatives and we must do where other states have failed to do.
This is our "Paul Revere" moment.
I hope you will join us in the fight and learn more about how we intend to win. We have several ideas we will get citizens involved in over the next few weeks and months.
Please go to gregpruett.com/newsletter and sign up today for our alerts and emails.
Additionally, we would love to have you as a member and know that your membership helps us fight each and every day for Idaho to remain free!
You can go to gregpruett.com and go to the "Merch and Memberships" section to help support the cause.