A Representative is supposed to serve their constituents, not attack them.
Imagine my surprise when I got a message from a friend with a video of Representative Greg Chaney attacking me.
Odd I thought since I usually see his videos in my feed when he has new posts. As my Representative in District 10 (Caldwell), I like to keep up to date on what is happening with my own elected officials.
While I have had my disagreements with Chaney, I actually thought those things were water under the bridge.
At the capitol this year we had several conversations and I was in his office or emailing back and forth several times discussing gun issues.
However, out of nowhere and without any evidence, he posted a video with lies about me and others I know.
As the President of the Idaho Second Amendment Alliance, I have gotten used to attacks from numerous people.
I get attacked by anti-gun activists which include the occasional death threat. I also get attacked from some gun control supporting "Republicans."
Even in the last few years Chaney's "beef" with me was mostly over my disagreement with him on a vote he made in the Idaho legislature.
Yet, his recent attack on me came out of nowhere and was filled with verifiable lies.
As an attorney, I would think Chaney would understand that making accusations without evidence is not a good look. However, the recent law school graduate doesn't seem to remember the "evidence" portion of his schooling.
So, let's break down what Rep. Greg Chaney lied about in the video he posted to his "Campaign" Facebook page.
First, Chaney claims that I orchestrated the Sara Brady protest at the park in Meridian.
Chaney said, and I quote, "He was straight up involved in setting that up."
While I do know Sara from our political dealings, and I would consider her a friend, I had nothing to do with that event at the park in Meridian. I didn't attend and I didn't plan the event.
In fact, I was completely caught off guard when I was informed by another friend of mine in a group chat that she had been arrested.
Here is a screenshot of my group message with my messages on the right side of the conversation (you'll have to scroll down to finish the article):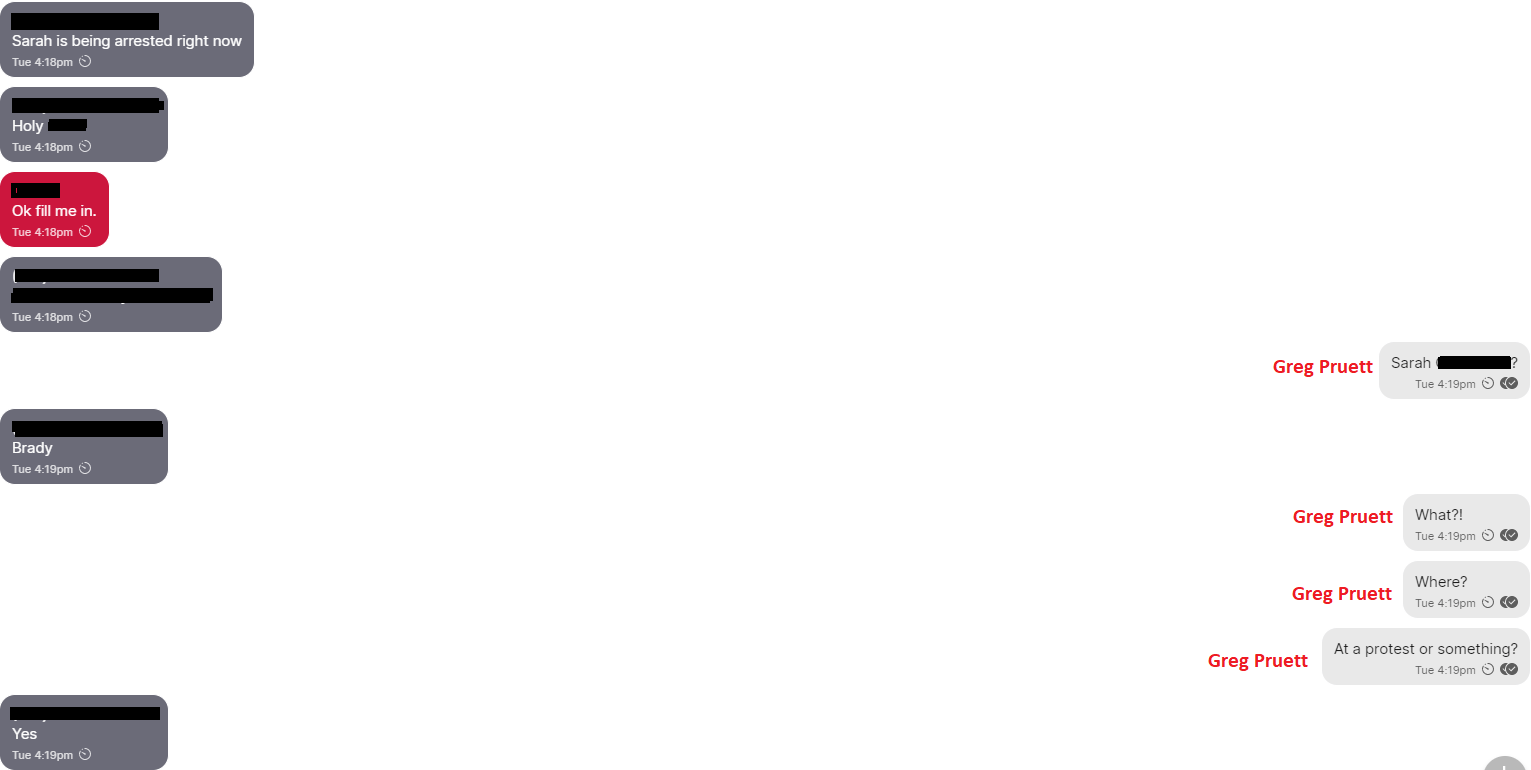 As you can see, my initial reaction was that it was another Sara(h) that I know.
I hadn't even thought about Sara Brady and was quite surprised at all that someone I knew was being arrested.
So, when the individual in the conversation says that it was Sara Brady, I was shocked. I didn't know anything about a protest as I had spent the day doing work for the Idaho Second Amendment Alliance.
I was actually in a lot of pain because of injuries sustained while I was in Iraq. It took everything in me just to do my regular job on the day Sara was arrested.
But Chaney wasn't about to let facts get in the way of his Facebook tirade against me.
Chaney then says, "Him and Sara are involved in an awful lot together."
In the last nine months, I have probably spoken with Sara Brady by phone or Facebook messenger fewer than five times. None of those conversations had anything to do with planning events together.
Ironically, I don't know that I have ever planned an event together with Sara Brady.
That wouldn't be anything personal against her but she doesn't run an organization and has never asked for me to help her with an event.
Her last conversation on Facebook to me was in February about carrying a firearm in church for protection. Before that, was October of last year when I actually let her know I disagreed with something she had done politically.
Yet, Chaney instead made up lies about me and my dealings with Sara Brady for his own political attack.
Chaney then doubles down on claiming that "He helped set the whole thing up."
Again, it never happened and he offers no evidence that I was involved in the protest at the park. Chaney doesn't appear to be one to let facts get in the way of his lies.
Chaney next claims that I orchestrated Brady's arrest. Of course, that didn't happen because I knew nothing of the event in the first place.
I called Chaney out for his lies on my personal profile in a public post and demanded any evidence to support his lies.
So far I have heard nothing but crickets.
Chaney finalizes his attack on me by saying, "Greg, tell the truth for crying out loud!" 
Yes Greg, I agree, you need to tell the truth. You need to immediately apologize to your constituents for lying to them.
You made false accusations against me without any evidence. I have shown you my evidence and if I had a way to show my Facebook messages I would post that too.
Where is your evidence Greg or do you lie in court as you have lied on the video to the voters of Caldwell?
Chaney also makes claims against Lieutenant Governor Janice McGeachin.
Without any evidence, Chaney says she is "fanning the flames" because she is speaking at the rallies/protests.
However, Janice was not in attendance at the park protest. She also wasn't at the city hall protest or even the big protest at the capitol recently.
Additionally, she wasn't at the protest in Emmett that was put on by Ammon Bundy. Her staff has informed me that she has attended no protests recently.
One of her staff members told me the last rally they remember her being at was a gun rally several years ago.
So, Chaney, why are you lying once again about the Lieutenant Governor of our state? 
You may disagree with her not liking the Governor's stay-at-home order but that is no reason to make up lies to further your political career.
Either provide some evidence that she attended any protests/rallies in the last few days or apologize to her too for your lie.
If you can provide some evidence then I'll be happy to acknowledge it. Until then, you owe me and Janice McGeachin an apology.
Sadly, Chaney wasn't done yet.
He finishes off his video by attacking me one more time by saying I am "after donations."
Yes, as the leader of a grassroots gun rights group, I raise money to help protect the 2nd Amendment in Idaho.
For that, I will never apologize.
We don't have big donors like the NRA or other gun groups.
Every donation we get is from a grassroots gun owner. They chip in $25, $50, or possibly $100 at a time.
The ISAA has accomplished a lot and we work our butts off for the gun owners in Idaho.
Because we rely on grassroots gun owners to operate, we have to raise money consistently to keep the fight going.
Rep. Chaney should apologize to his constituents, including me, for deceiving people and slandering me with no evidence whatsoever to back up his accusations.
Sadly, Chaney is likely one of those attorneys who knows better than you and enjoys talking down to you.
If he is willing to go on video and lie about several people, including me, what else is he lying to you about?
The voters in Caldwell (District 10) deserve someone better in office to represent them.
While Representative Greg Chaney doesn't have a primary or general election opponent in 2020, I hope someone will step up and take him on in 2022.