The final piece of Constitutional Carry in Idaho (HB 516) has passed the House State Affairs Committee.
The bill now heads to the full Idaho House after a party-line vote of 11-3.
Of course, the hearing wouldn't have been complete without the typical "doom and gloom" testimony from Moms Demand Action.
Their lies, deceit, and irrelevant stories had nothing to do with the actual bill. We expected nothing less from gun grabbers.
I would venture that not a single Moms Demand Action person at the capitol could explain what HB 516 actually does.
Understanding the facts about firearms and the legislation surrounding them has never been a strong suit of the gun grabbers.
HB 516 was no exception.
The hearing was also packed with incredible gun owners!
Several dozen came out to a weekday hearing at 8:00 a.m. to support a pro-2nd Amendment bill.
A number of gun owners got up and testified in favor of HB 516.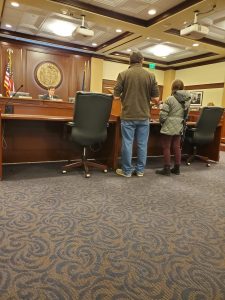 The battle to complete Constitutional Carry in Idaho has been going since 2016.
In 2016, the first step of Constitutional Carry passed.
However, several parts of a full Constitutional Carry were left out.
The age limit for Constitutional Carry inside city limits was set at 21-years-old, while the age limit outside city limits was 18-years-old. Additionally, citizens from other states had Constitutional Carry outside city limits, but not inside.
These two absurd restrictions put Idaho in an unfortunate category for Constitutional Carry states. 
After the original passage of Constitutional Carry in 2016, I vowed that the ISAA would not rest until these restrictions were removed.
In 2017 and 2018 we worked with former Rep. Karey Hanks to fix the issues.
It wasn't until 2019 that Rep. Christy Zito was successful in lowering the age limit inside city limits to 18-years-old.
That left just one piece of the puzzle unfinished. We only needed to ensure that all citizens could carry concealed without a permit in Idaho.
They could already do so outside of city limits which is about 99.8% of the state.
HB 516 make the law uniform throughout the state. 
It will clear up confusion for law enforcement.
We have spoken with several law enforcement officers who don't even understand the current law.
Now, we have a chance to clear up this confusion.
The bill is now in the hands of the Idaho House for consideration.
However, it still has to pass the Idaho Senate State Affairs Committee and the full Idaho Senate.
Finally, it has to be signed by Governor Little.
It is unclear where Governor Little stands on the issue.
Given his signature on last year's Constitutional Carry expansion, it shouldn't be hard for him to sign this as well.
We are still a long way from that happening though.
Contact your two Idaho House members today and tell them to vote "Yes" on HB 516!