With Idaho's rapid growth, the Republicans in our state need to make a lot of tough decisions.
We need to make those decisions very quickly.
I have spoken at length about the need for the Idaho Republican Party to drastically change its path and strategy.
The days of "slow and steady" policy changes are gone. We can't base our strategy on "don't pass a bill that makes people upset."
We must take advantage of the legislative supermajority we have or we'll regret it when it's gone.
Virginia is the perfect example.
Republicans slowly lost power in that state. Then, when the Democrats took over, they went after guns, taxes, social issues, and more.
And the Virginia Democrats are doing that in the first year!
When Democrats have power, they waste little time in implementing their progressive agenda. We must learn from this.
In the 2020 Idaho legislative session, we are seeing a number of bills that address progressive issues that have permeated other states.
For instance, one bill that Rep. Barbara Ehardt is introducing is would prevent high school males from participating in female sports.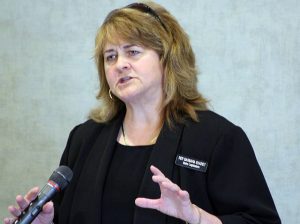 This issue is in its infancy across the United States.
A number of males are claiming to be females and competing in female sports.
It's a growing problem. So much so that some female athletes in Connecticut are suing to prevent males from participating in their sports.
The men are breaking records and winning championships in female sports, stealing the opportunity for women to win what they should rightfully be able to win.
So, the reaction to Rep. Ehardt's bill to get ahead of this issue in Idaho, before it becomes a problem here, has been one of mockery and ridicule from Democrats and even some Republicans.
The common line you see in the social media comments about Rep. Ehardt's bill says something to the effect of, "Is this really necessary in Idaho?"
To my knowledge, Idaho doesn't have any high school males competing in female sports.
So is it a problem in Idaho right now. Not that I'm aware of.
However, this is the lesson we need to learn. If you don't stop the progressives BEFORE they gain a foothold, we'll end up losing in the end.
Now is the time for Idaho's Republicans to take advantage of our supermajority, and put an end to the progressive madness creeping into our state.
The radical left is constantly adopting new strategies and tactics in the political battlefield.
For some reason though, too many Republicans want to keep the old methods of "doing things."
I get it. It's comfortable and less stressful hoping that Idaho will always be the same.
It's much easier to think that Idaho will not go the way of Colorado, Nevada, Oregon, Washington, or Virginia.
But folks, things have already begun to change.
We are seeing progressive groups like Reclaim Idaho and others push major progressive agendas in Idaho, and they are doing it successfully.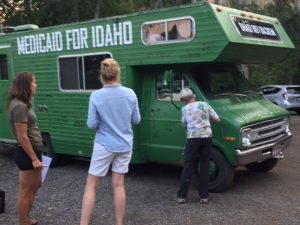 So, we can keep going with how things are and pray that Idaho always remains "red."
But I believe the better option is to adjust our strategies and tactics to take the fight to the enemy.
Make it so progressives don't even want to live here!
They are pushing hard in our state to change it to another California, so why would you not want to fight back twice as hard?
Why give them the upper hand in this fight? Do Republicans not understand that the progressive machine has a massive amount of money, volunteers (paid or otherwise), and a desire to destroy the constitution.
They aren't coming to Idaho to leave it as is. They want to make it just like California.
That's why we have to pass legislation right now that crushes the progressive agenda.
Don't let the liberals on social media and leftist media reporters deter you from the fight. They will do everything they can to shame you into submission.
They are going to call you a number of horrible names to demoralize your desire to being engaged in the political process.
You can't let them get to you!
Stand up Idaho Republicans and demand that your legislators and party leaders fight as they have never fought before.