Some of you may not know this, but the reason the Idaho Second Amendment Alliance was founded was to make Idaho a Constitutional Carry state.
At the time, only Vermont, Alaska, Arizona, and Wyoming had Constitutional Carry and it frustrated me that Idaho was not on the list.
That was 2012 and the reason for starting the ISAA. Fast forward to 2016 and Idaho finally became a Constitutional Carry state but with restrictions that we tried to stop.
Idaho had allowed residents of Idaho and non-residents to carry weapons OUTSIDE of city limits with no permit for a long time. It was inside the city limits where a permit was needed and really only for a handgun.
The 2016 law (SB 1389) amended Idaho's law to allow Idaho residents 21 years old and over to carry a handgun inside city limits with no permit. 
However, when that passed I vowed that we would not rest until we removed the restrictions on 18-year-olds (and over) and non-residents.
It was frustrating to me and gun owners that Idaho would have a big asterisk (*) by our state name because of the restrictions that states like Vermont, Maine, and New Hampshire did not have.
We began working with former Rep. Karey Hanks in 2017 to remove these restrictions.
Finally, In 2019, Rep. Christy Zito, a champion of gun rights in Idaho, sponsored HB 206 which lowered the age limit in city limits for Idaho residents to 18-years-old and over.
In addition to HB 206, Rep. Bryan Zollinger sponsored a bill that cleared up confusion about whether Constitutional Carry applied to inside of vehicles. While the law did already said it did, there was too much vagueness in the wording. Rep. Zollinger's bill cleaned it up nicely.
All that was left now was to remove the restriction on non-residents inside city limits.
You see, out of the 16 Constitutional Carry states, only three of them have restrictions on non-residents. Idaho is one of them.
Wyoming and North Dakota completely restrict non-residents in their respective states.
However, Idaho sits alone with one of the strangest restrictions on Constitutional Carry.
Rather than try to write them all out, check out this image we put together to show citizens how absurd the restriction is. The image shows you what CURRENT Idaho law is.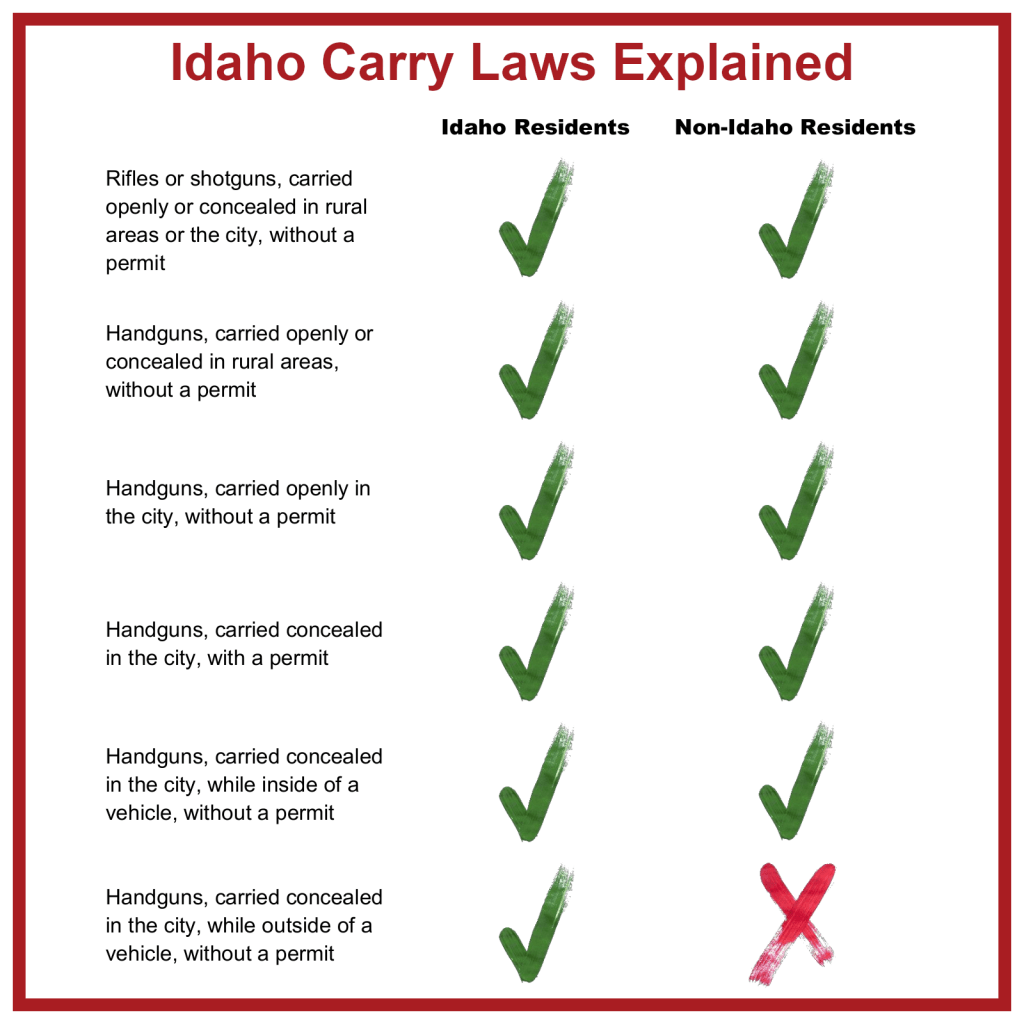 Do you see what I mean?
Your family, friends, and others coming to Idaho can carry their weapons without a permit almost anywhere and anytime. But if they decide to get out of their vehicle with a handgun inside the city limits, and put their coat on, now they are violating the law.
That's why Rep. Christy Zito is sponsoring House Bill 394 which will turn that big red "x" into a green checkmark!
Over two-dozen cosponsors between the Idaho House and Senate have also jumped on board
They too realize the absurdity of this restriction.
Of course, that won't stop the media and Moms Demand Action from their typical "doom and gloom" scenarios.
You know, the same "chicken little" scenarios they painted in 2016 and 2019.
Gun owners should support HB 394.
Be sure to contact your legislators and tell them to support it as well!