For eight years now I have been working with legislators in Idaho to push pro-2nd Amendment legislation.
There are a number of great legislators who work diligently and tirelessly to fight for Idaho's gun owners.
One of those legislators is Rep. Christy Zito (Republican – District 23) from Hammett.
I met Rep. Zito back in 2016 just before the primary election season. She was running against a legislator who had voted against Constitutional Carry.
Her desire to fight for gun owners was a crucial aspect of her campaign.
She defeated her opponent, a 10-year incumbent, and won her general election race for the legislature.
Since then, I have worked daily with Rep. Zito on fighting for gun owners in Idaho's capitol.
We have worked hard on a number of issues for Idaho's gun owners.
For example, she successfully led an effort to expand Constitutional Carry. She fought for better Stand-Your-Ground.
She is currently fighting to give Idaho a better Firearm Preemption law and expand Constitutional Carry once again.
Additionally, she has fought against a number of gun control bills.
Thankfully, Rep. Zito is still in the capitol fighting for gun owners. Her efforts have not gone unnoticed.
So, with that in mind, the Idaho Second Amendment Alliance decided to create an ad and purchase a billboard to thank Rep. Zito for her efforts!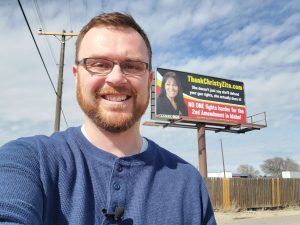 I drove down to Mt. Home in Rep. Zito's district and took several pictures and shot a video explaining why we decided to do this for Rep. Zito.
In reality, we could not do what we do without great elected officials like Rep. Zito.
It's been an honor and pleasure to work with her these last five years. I look forward to working with her for as long as she is in office.
You see, a lot of politicians tell you on the campaign trail that they love the 2nd Amendment.
They tell you they'll fight for you but then do nothing once they are safely in office. That is not the case with Rep. Zito.
Rep. Zito promised to fight for gun owners at the captiol, and she has delivered on her promise to fight for you!
For that reason, we created the video ad below and purchased a billboard in Mt. Home to thank her for her efforts.
Be sure to share this article with your family and friends, watch the video, and then send Rep. Zito and "Thank You" note by going to ChristyZito.com today.
If you have not had a chance to see the video ad we created for her, you can watch the ad by clicking on the video below! (The full billboard picture is below the video.)