"Laws for thee but not for me" as the saying goes.
Except, in the case of Mt. Home Mayor Rich Sykes, it's his life.
Recently, Mayor Sykes went on an hour-long Facebook rant about how people aren't staying home enough during the Coronavirus pandemic.
He threatened to shut down the city in addition to citing and fining people for violating the stay-at-home order.
Never in my life have I heard such a power-hungry elected official in the state of Idaho. As they say, an emergency will bring out the worst in some people.
Throughout the video, he constantly refers to Mt. Home as "his" city. He even goes so far as to call Walmart, Albertson's and other workers as "his."
He refers to nearly every entity in the city as "his" people.
Sadly, that isn't even the scariest part of his video.
The scariest part of the video is when the Mayor says he will shut the city down and then fine and arrest people if he deems they are doing something "non-essential."
He goes on to mock people for buying things that are, in his words, not necessary.
For instance, he says that citizens don't need to buy lottery tickets. While I am no fan of lottery tickets, who am I to decide whether or not someone else should buy one?
What if the person buying a lottery ticket just lost their job and is desperate for money? So, they purchase one hoping to get a little more money for food?
Again, not what my decision would be but it's not my decision to make.
King Sykes, however, has a job and is going to be paid no matter what during this crisis because he is the Mayor.
We all want to flatten the curve and keep the Chinese Coronavirus from spreading as much as we can.
Nobody wants to see someone else suffer or die because of illness or disease.
However, some of us also don't want to see our country in ruins trying to fight this thing. In particular, we don't want to see our freedoms "flattened" in the process.
People like King Sykes believe they get to run your life during this crisis. Remember though, these rules only apply to you, not King Sykes.
You see, Sykes took a selfie of himself at a taxpayer-funded gym just four days ago!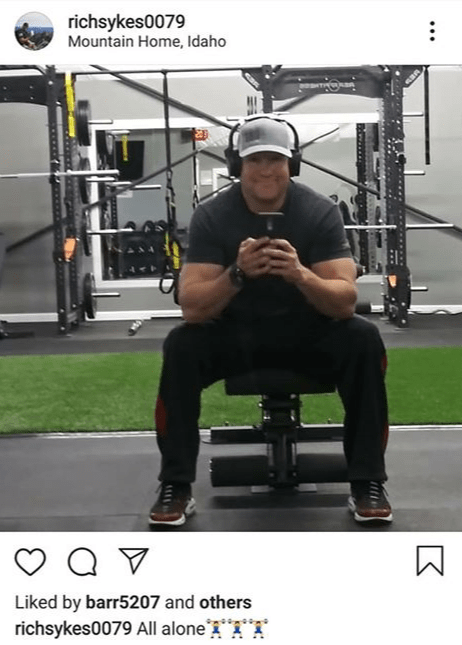 The photo was posted online by the Idaho Freedom Foundation and should anger every citizen of Mt. Home and Idaho.
He did, after all, threaten everyone coming to "his" town if they don't need to be there.
He wants to arrest you or fine you if you go buy a candy bar, soda, makeup, or lottery ticket. Yet, he can go to a taxpayer-funded gym and workout?
This is outrageous.
The citizens of Mt. Home should immediately demand his resignation or recall him if he won't resign.
The reality of this virus is that power-hungry politicians like Sykes are being exposed.
The gall of some politicians to laud their power over other people is the worst of humanity.
No, that doesn't mean the rest of us don't care about defeating the Chinese Coronavirus. It just means that while I am willing to "flatten the curve" on my own, I am not willing to "flatten" freedoms, the constitution, and people's livelihoods using the threat of government.
We are on a very dangerous path right now.
I will not bow to King Sykes or any other power-hungry politician. I will ask God for help during these times because we need Him now more than ever.
Please pray for our country to help defeat the Chinese Coronavirus and pray that people like Sykes no longer hold public office when it's all over.