This article will be the first in a series of articles designed to give you my thoughts on several legislative races.
Soon, Idahoans will pick legislators who will represent them in the 2021/2022 Idaho legislative sessions.
A number of interesting races will be taking place that I wanted to give my own insight and opinions on.
First, I want to take a look at the District 23 Senate race. District 23 covers Owyhee and Elmore counties as well as part of Twin Falls county.
This is a matchup between current Representative Christy Zito and Brenda Richards.
Rep. Zito has served in the Idaho House for four years.
With the retirement of Sen. Bert Brackett, Rep. Zito decided to run for the open senate seat. Brenda Richards is the other candidate running for the open Senate seat in the Republican party.
Interestingly, with this race, we are pitting a solid, tried and tested conservative against a sure establishment candidate.
Sen. Brackett was one of the worst Republican Senators in the Idaho Senate.
Sadly, but not surprisingly, Brackett has handpicked and endorsed Richards.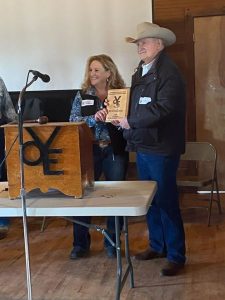 If you are a conservative living in Dist. 23 and you are hoping for a more conservative candidate than Christy Zito, you might wince at a candidate endorsed by Brackett.
Unfortunately, Brackett's "Freedom Index" score was barely above most of the bottom-dwelling Democrat senators.
Additionally, Richards will most certainly be a "yes man" in the capitol. Simply put, many new legislators go to the capitol and immediately forget the people that elected them to serve.
When party leaders tell you that you need to "go along to get along" folks like Richards are the first to fall in line.
However, if you want a candidate who will stand on her conservative values, Christy Zito is the clear choice!
I have watched year after year as Rep. Zito stood up and did the right thing, no matter the pressure she felt from others.
Thankfully, when Rep. Zito is faced with doing the right thing versus doing the easy thing, she does the right thing.
Not only that, but I have watched Rep. Zito put in numerous hours responding to her constituents. She even responds to others who contact her from outside of her district.
Yes, she's one of the nicest ladies you will ever meet but don't let that fool you.
She is a fighter and won't back down when she's being challenged.
Finally, Rep. Zito is as solid as they come in defense of your gun rights.
This year, just like every year, all legislative candidates will tell you they support the 2nd Amendment.
For instance, check out this image from Richard's Facebook campaign page: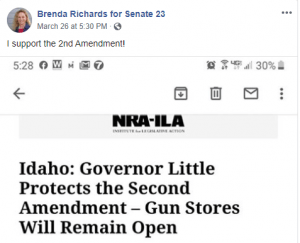 Well, if that doesn't fill you with confidence I don't' know what will.
Remember, there is a big difference between being pro-gun and pro-2nd Amendment. Does Brenda Richards really believe in "shall not be infringed" or does she believe in government control to some degree over it?
Rep. Zito was no different on the campaign trail in 2016. However, she has proven her 2nd Amendment credentials since she was elected by her constituents.
She has successfully led the effort to pass two Constitutional Carry expansion bills.
Rep. Zito has also led the effort to expand Stand-Your-Ground, expand firearm preemption law, and fought against gun control.
When it comes to your gun rights, she walks the walk.
And that's not all.
She has voted numerous times against wasteful spending, government overreach, increasing spending, and has fought hard for social issues important to conservatives.
Rep. Zito's "Freedom Index" rating is a whopping 97%!
This means that she votes against bigger government nearly every vote she is taking. You know, like conservatives say they will.
In closing, you are NOT going to get a better conservative if you choose Brenda Richards. 
The voters in District 23 would do well to send Rep. Zito to the Senate.
While the Idaho House has grown more conservative with some solid-conservative legislators, including Rep. Zito, the Idaho Senate is in desperate need of change.
Brenda Richards will be another Bert Brackett in the Senate. She'll vote for big government much of the time in my opinion.
She'll go along to get along and do whatever it takes to fit in, just like Brackett has.
Christy Zito will be a breath of fresh air in the Idaho Senate.
My official endorsement for the Idaho District 23 Senate Race is Christy Zito.
If you wish to learn more about Christy Zito or donate to her campaign you can go to ChristyZito.com today!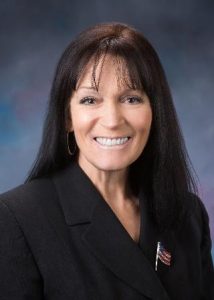 Please note that my endorsement is my personal endorsement.
These endorsements and opinions do not reflect anything related to my work with the Idaho Second Amendment Alliance.