Contact the House Revenue and Taxation Committee (hrev@house.idaho.gov) and tell them to support HB 409!
Property taxes are out of control in Idaho.
For those of us in the more urban parts of the state, the Treasure Valley, in particular, the pain of property taxes has reached a boiling point.
Citizens are fuming and demanding the legislature come up with a solution. If not, it is likely that a California-style Prop 13 ballot initiative will be launched.
The issue is being addressed by the legislature this year but there doesn't seem to be a clear consensus on a path forward.
And with 2020 being an election year, numerous proposals are coming forward and it's hard to figure out which ones are serious and which ones are only meant to be used as campaign talking points.
The counties, of course, are whining about what property tax relief will do to their ability to spend your money.
Time is running out in the legislative session for "something" to get done.
One proposal that I would support is Rep. Mike Moyle's HB 409 which would freeze property tax rates for one year.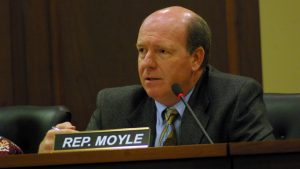 His proposal wouldn't affect the school taxing districts.
However, the proposed freeze would provide some relief to homeowners who are being priced out of their homes.
HB 409 isn't the final solution to the problem, but it is needed to help Idaho's homeowners come up for air in this growing problem.
Any relief at this point would be beneficial.
There are other proposals out there. However, I think this one has a very good chance of passing and will be helpful to Idahoans.
The bigger issue, in the long run, is spending.
While taxing revenue continues to increase due to Idaho's population boom, the spending is moving right along with it.
With Democrats now running Ada County, there is little chance they are going to be fiscally conservative with their spending.
Tax freezes and cuts are fantastic but must be coupled with a reduction in spending.
Too many cities and counties continue to spend your hard-earned money with little thought about how increasing taxes is hurting your family.
So, what can you do to help move HB 409?
I need you to contact the House Revenue and Taxation Committee BEFORE Tuesday (February 11th) when the bill will be heard in committee!
If you can't do anything else, send them an email at hrev@house.idaho.gov and tell them to pass HB 409!
What would really be helpful is if you could also attend the hearing on Tuesday (Feb. 11th) and speak in favor of the bill.
The hearing begins at 9:00 a.m. on the Garden Level in the capitol.
If you want something done about your property taxes, take the time to reach out to legislators.
Act now before it's too late!