If there is one thing Idahoans don't' tolerate very well, it's gun control.
In Idaho politics, a strong stance in favor of gun control is usually the death of your political ambitions.
On gun control, there is no bigger threat to the 2nd Amendment than billionaire Michael Bloomberg.
When news broke that Bloomberg was setting up shop in Boise, I knew gun owners would not be happy.
I shot a video in front of Bloomberg's office, showing Idahoans that he really did set up shop in Idaho. Afterward, a number of gun owners asked if I would be willing to hold a peaceful protest in front of Bloomberg's office.
So, earlier today (2/15/2020) over 300 gun owners and conservatives held a peaceful protest in front of Bloomberg's Boise office.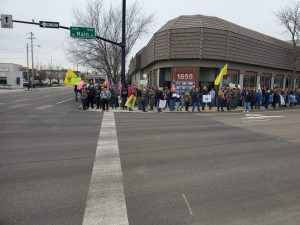 Over 300 gun owners protest Bloomberg!
We wanted to let him know that his gun-grabbing agenda is not welcome in Idaho!
The Idaho Second Amendment Alliance, Idaho MAGA Girls, and other Idahoans came together to let the gun control crowd know we are here to protect Idaho.
Gun owners across the country better be aware that Michael Bloomberg has a good chance of being the nominee for the Democrat Party.
He is spending hundreds of millions of dollars to buy the nomination. He plans to spend much more.
While many of the candidates have a "ground game" in the first four primary states, Bloomberg has established offices in 40 states!
He may be the only one that can really give Trump a run for his money.
Bernie, Biden, Warren, and the others are faltering and their socialist agendas will be a problem for Democrats in 2020.
But no one will mobilize gun owners more than Michael Bloomberg being the Democrat nominee.
He's been fighting against the ISAA for years now. He tried to stop Constitutional Carry in 2016.
His commie mommies from Moms Demand Action have tried to stop all of the pro-gun legislation we have fought for.
How long before Bloomberg starts dropping real money into Idaho?
That's why I was honored to stand with fellow Idahoans today to peacefully protest gun-grabbing Bloomberg and his radical agenda.