Red Flag laws, also called Extreme Risk Protection Orders, remain a hot topic throughout the nation.
More states continue to pass them and states with Red Flag laws continue to expand their scope.
While gun owners understand the real danger of these laws, the politicians in state capitols either don't understand or don't care.
I have warned about the dangers of Red Flag laws for years. The problems with Red Flag laws, including innocent people losing their lives, continues to grow.
Idaho's gun owners are fighting hard against Red Flag laws or any law containing similar language.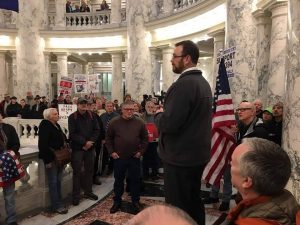 Gun owners know that these unconstitutional and dangerous laws will be abused. They already are in other states.
As a reminder, you can read my previous article on why gun owners should oppose Red Flag laws.
Needless to say, the dangers can't be overstated.
There is a reason the Idaho Second Amendment Alliance is fighting so hard to get every legislator on record on Red Flag laws.
So, are Red Flag laws even possible in Idaho?
A number of Idaho legislators have tried to claim that it isn't possible so you shouldn't worry about it.
However, is that really true?
The answer isn't as simple as they want you to think. Some Idaho legislators and some phony conservative groups attack me and the ISAA for speaking out about Red Flag laws.
First, let's begin with what the Idaho Constitution says in Article 1 Section 11.
This is the part of the Constitution they are citing when they say that Red Flag laws aren't possible in Idaho.
"Nor shall any law permit the confiscation of firearms, except those actually used in the commission of a felony."
On the surface, it would appear that confiscating firearms would be illegal under Idaho's constitution.
However, what would prohibit the legislature from passing a law that allowed a judge to force you to remove firearms from your home to another family member's home?
The government isn't "confiscating" your firearms but forcing you to give them to someone else temporarily. Is that really any different?
Not to the gun owner losing his/her firearms it isn't!
Does that sound like a plausible loophole? The answer to that question is yes and we know that because the ISAA killed a bill with a similar style provision two years ago.
In 2018, Rep. Melissa Wintrow introduced a bill to require a gun owner to remove firearms from their home if they were convicted of misdemeanor domestic violence.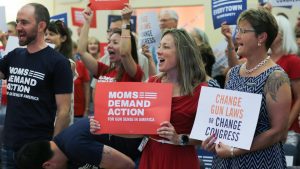 Several legislators challenged the constitutionality of the bill given the Idaho Constitution requires a felony conviction.
However, Wintrow took her bill to the Attorney General, Lawrence Wasden, who claimed there was no conflict!
So, Wintrow had apparently found a workaround of Idaho's Article 1 Section 11.
Additionally, the language in a version of Marsy's Law last year had similar language to Red Flag laws. No constitutional concerns were ever brought up by the AG's office.
Despite what some Idaho lawmakers are trying to claim, Idaho's constitution is not going to stop Red Flag laws entirely.
Everyone would agree that there are a lot of infringements on the 2nd Amendment despite the very clear wording therein.
So do some Republicans in particular really believe the legislature couldn't find a workaround if they wanted to?
I believe Idaho needs to amend our state constitution to be much stronger.
The prohibition of Red Flag laws or anything similar would be at the top of the list.
For now, Idahoans must keep watch over any bill that contains Red Flag language. Don't let any similar language see the light of day or they'll use it as justification for a Red Flag style law later on.
As more states pass Red Flag laws, the pressure is going to increase on the Idaho legislature to "do something" with them as well.
Gun owners must stand strong and remove from office those who are unwilling to oppose Red Flag laws and anything that looks like one.