In Part 1 of the Gem State Heist, I gave you an overview of what that term means derived from what happened in the state of Colorado.
One of the key components to the downfall of Colorado was well-funded and organized liberal groups becoming involved in the political sphere. Conservatives ignored these groups because they didn't think they had the power or influence to make a difference.
In Idaho, our apathy is keeping us from understanding the threats that already exist and the types of groups that will flip Idaho into another liberal state if we don't expose them for who they are and what they are trying to do.
I am going to name a few of these groups in this article and briefly show you who they are or what their goals are going to be in fighting against the conservative movement in Idaho. 
Group 1: Everytown for Gun Safety and Moms Demand Action
Gun owners in Idaho likely know about these two organizations. They both are the product of Michael Bloomberg and his gun control empire seeking to destroy the 2nd Amendment.
It wasn't until about 2016 that we really saw these groups start to become more active.
I remember Bloomberg spending money here in Idaho in 2016 trying to stop Constitutional Carry. He was unsuccessful, but that didn't stop them from getting tons of out-of-state activists to flood our capitol in an effort to kill the efforts of gun owners.
Every year since then, the organizations have been meeting with lawmakers and have tried to kill a number of other pro-2nd Amendment bills. 
Specifically, they focus on killing any bill related to firearms and schools. Defeating teachers' ability to carry in defense of their students is something the groups pride themselves on, and they have found some Republican lawmakers helpful in their cause.
There is never a shortage of money for these national organizations, and Bloomberg has found success in using the ballot initiative process in "Red" states to trick gun owners into supporting gun control. 
If they are going to try a real push for gun control in Idaho, look for it to come through the ballot initiative process or through an emotionally appealed piece of legislation. 
Group 2: The Idaho 97%
This group formed late in 2020 and poses a dangerous risk to conservative values in Idaho.
Part of the reason the group poses a big threat to conservatives is because of their deceptive "bi-partisan" tag lines. They pretend to be "non-partisan" with the goal of fighting "extremism" in both parties. 
The name of the group is meant to be the opposite of the "3%" groups, and they claim they are just regular Idahoans who want to bring civility back into Idaho politics.
Well, let's take a brief look at two of their leaders: Emily Walton and Mike Satz.
I don't know what capacity Emily serves with the 97% anymore, but she was one of the founders of the organization. If she is no longer in any official capacity with the organization, it's probably because they quickly realized her radical liberalism would be a hindrance to the "common Idahoan" claim the groups want to push.
Walton is the former lobbyist for Michael Bloomberg's gun control group "Everytown for Gun Safety." That alone should be everything you need to know about Walton and her desire to present the "Idaho 97%" as some sort of "normal Idahoans" style group.
Here are just a few of Ms. Walton's tweets, and you tell me if this is the "typical" Idahoan that you know (some tweets contain offensive language):



I'd pull more of her vulgar and disgusting tweets, but Walton has now locked down her Twitter feed, so you can no longer see what she has tweeted. But I know she has for years posted major attacks and very vile attacks on conservatives. 
Walton routinely targets Republican lawmakers, and you'd be hard-pressed to find her attacking Black Lives Matter, Antifa, or any other leftist group when they commit acts of violence or vandalism. 
Mike Satz is also not a "moderate" by any stretch of the imagination. 
Satz also routinely targets conservatives and Republicans in general. Here are a few of Satz's tweets praising Joe Biden, attacking Congressman Russ Fulcher, attacking Ted Cruz, and praising Alexandria Ocasio-Cortez (story continues below):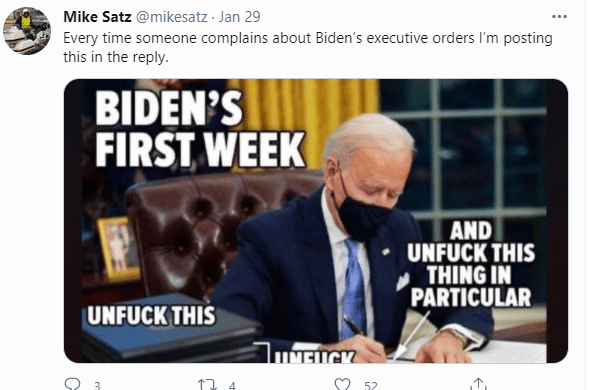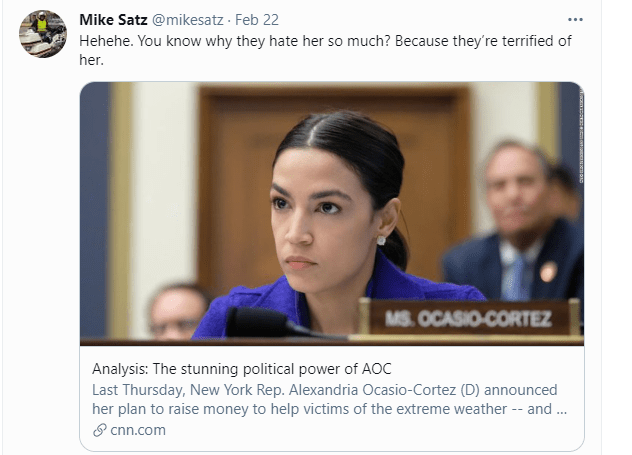 Does that sound like a guy who is going to give any Republican the time of day as a "non-partisan" group? Does this sound like it is going to be a group of "moderates" and that they will do nothing short of just attacking conservatives?
Remember, these are the types of liberals who thought Mitt Romney was a radical when he ran against Obama in 2012. Sure, they love Mitt Romney now because they realized they have a lot more in common with him than they realized. 
Here is how the group has tried to label themselves in the media, and the media is certainly happy to go along with their madness. A tweet from the very liberal Mike Satz: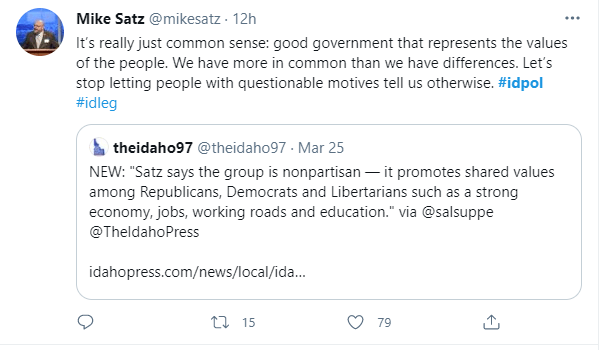 Shared values? Is that what "The Idaho 97%" is going to fight for, or is it just a front for radical liberals to pose as moderates and dupe unsuspecting Republicans into helping them defeat conservatives?
I'll cover more about this group in another article and show you how their deception is already working.
Group 3: Reclaim Idaho
This group has been around for a number of years now and was founded by Luke Mayville.
Reclaim was successful in pushing Medicaid Expansion into law through the ballot initiative process. Medicaid Expansion was not something anyone thought was possible in a state like Idaho.
Medicaid Expansion is another big government healthcare program that Reclaim Idaho had promised Idahoans was going to save money. Sadly, it's already double the cost the "experts" had predicted.
The group intends to use the ballot initiative process as their primary tool, as most liberal organizations do in other states, to push their agenda. 
Mayville is much more articulate than many of the other liberal leaders of the other groups and can probably convince a lot more Republicans to support his efforts.
But the main concern with Mayville's efforts is the ballot initiative process. Watch Reclaim make no attempt at pushing legislation in the capitol and focus solely on the ballot initiative process. 
The ballot initiative process is extremely dangerous to liberty, and often the people who push these initiatives lie to voters about what the initiative will really do.
I heard it myself from at least two of Reclaim's signature gatherers last year in pushing their education initiative. Their goal is just to get it to the ballot where inaccuracies in their description of what the initiative will do won't matter once the initiative passes.
Ballot initiatives have destroyed Oregon, California, and Washington, and the 2nd Amendment is a favorite target of the process. I don't think Mayville has any interest in doing gun control initiatives. He would likely leave that to Bloomberg's groups, who can more easily fund them.
Look for Mayville's initiatives to target education funding, other government medical program changes, changes to Idaho's election laws, and perhaps some environmental changes. 
Group 4: United Vision for Idaho
This group is far less known but is part of a national effort to deceive rural voters into thinking the group is some sort of "normal" Idahoans type group similar to the Idaho 97% groups although they do describe themselves as progressive. 
Here is what their Facebook page says:
Idaho's only progressive multi-issue organization dedicated to uniting Idahoans across the state and placing Idaho at the center of a national movement for systemic change that makes social, economic and environmental justice a reality for EVERYONE!

Moving from Vision to Action, we advocate a bold agenda, not a list of policies the establishment says we can win, but what the people of Idaho and this country must win! We are building power for a new multi-racial, working class movement to win real improvements in people's lives and center Idaho in the larger fights that make that truly possible.
Groups like this, funded often by wealthy liberals from out of state, have a radical left agenda.  Social justice, environmental extremism, socialism, and other leftist issues are their main focus.
If the group grows really large, all of a sudden, you will know that a wealthy liberal has suddenly helped them leap in their growth.
Group 5: Black Lives Matter
After the death of George Floyd last year, Idaho saw some similar protests that we saw across the country. 
Black Lives Matter, in particular, mobilized in Idaho. The organization held a number of protests last summer, and other protests supporting the organization took place in several Idaho cities.
The Boise chapter of Black Lives Matter is led by Terry Wilson II, who was arrested recently for vandalizing an Abraham Lincoln statue and then resisting arrest when officers tried to take him in.
BLM-Boise has a long-term vision of abolishing police departments, destroying the family as a unit of our society, and other very leftist goals. 
BLM is another leftist organization that can make changes in Idaho but is more open about its goals. This makes it easier for regular Idahoans who don't fall to the "woke" crowd to not get sucked into the rhetoric.
A lot of the money raised by BLM organizations usually goes to fund Democrat politicians. 
You won't ever find a BLM group supporting Republicans, and they are even so radical that they are attacking Boise's radical left mayor, Lauren McLean! 
Group 6: Extinction Rebellion
Again, this is another rather unknown group. They are part of a national movement of youth who are climate extremists. 
They routinely target banks and other companies that they see as a threat to the environment.
One of them fell from a Chase bank recently, and his cohorts immediately told the people around them to call 911. Ironic since these are the types of people who hate the police.
However, the group also had several people on the Idaho House floor recently handing out masks.  My guess is that they were there for the publicity stunt and not out of some desire to help lawmakers wear masks and be safe from COVID-19.
The group also said that they shut down a Chase bank in Boise last year.
Extinction Rebellion is another leftist group that is rather open about its extremist ideals. These groups are easier to identify and stop if Republicans have the spine to stand up to their wokeness.
One of the ways they recruit new youth is by forming clubs at your local high school. The group tells parents they are simply a group that is trying to "care for the environment." A clever ploy to radicalize the young ones into leftist causes.
Some other groups are likely to pop up, and others probably already exist in some capacity. 
I chose the above groups like the ones that I believe pose the biggest threat at this time. Groups like the Idaho 97% pose the biggest threat to Idaho because they are liars who pretend to be something they are not. 
Their entire purpose is to get Mitt Romney-type Republicans to join them in their fight against real conservatives.
Once those conservatives are gone, they'll turn their sites on the moderates in the state and take them out. 
And what they are doing is already working. Some Republicans are already helping these liberal groups attack conservatives.
These so-called Republicans are either deliberately helping these leftist radicals or inadvertently helping them because they have been deceived.
That is the real danger of some of these groups. If they are able to trick a bunch of Republicans into taking out good lawmakers and groups, then Idaho will fall as many other states have. 
I'll cover some of the Republicans who are helping these groups and another so-called "conservative" group operating in Part 3 who pose perhaps the greatest threat to Idaho's conservative standing.