During the election season, numerous groups send out surveys to legislative candidates.
The Idaho Second Amendment Alliance is no different.
As Idaho's largest grassroots organization, we have tens of thousands of members and supporters. They all want to know where their candidates stand on gun rights.
Once those surveys come back, we post them online for everyone to see.
However, some candidates seem to make it a point to not return our survey.
That appears to be the case in three southern Idaho legislative races.
The first candidate, Dave Radford, is challenging pro-2nd Amendment incumbent Representative Chad Christensen.
Rep. Christensen represents District 32 which covers Caribou, Bear Lake, Franklin, Oneida, and Teton Counties. Some of the towns in District 32 are Preston, Driggs, Soda Springs, Montpelier, and Malad.
While Rep. Christensen returned our survey with 100% pro-2nd Amendment answers, Dave Radford refused to answer the survey.
Sadly, Mr. Radford seemed to brag about not filling it out in a back and forth conversation I had with him on Facebook!
You would think Dave would be happy to let gun owners in Idaho know that he is pro-2nd Amendment by filling out a very easy survey.
However, he initially told me that instead of filling out the survey, he chose to fill out the Idaho Republican Party survey which wouldn't cover many of the issues that we cover.
When I asked him if he filled out the NRA survey, he indicated that he did.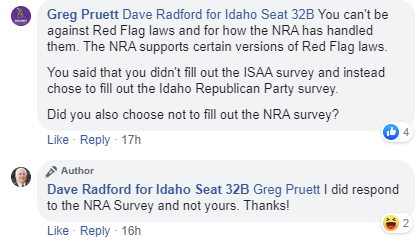 So, for Dave, making sure he pleases and begs for the support of big out of state lobby organizations, that is his priority.
Letting gun owners know that he supports local Idaho groups? No, Dave has more "important" people to answer to.
Interestingly, Dave says he doesn't support Red Flag Gun Confiscation Orders and that he supports how the NRA has handled the issue.
However, Dave must not know that there are certain versions of Red Flag laws that the NRA supports? You can't have it both ways, Dave.
Finally, gun control advocate Congressman Mike Simpson has endorsed Dave Radford.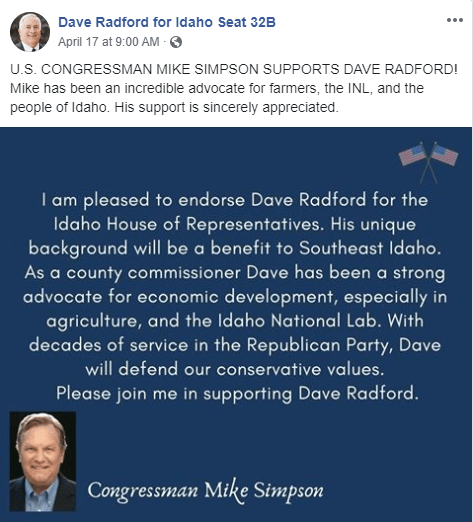 If it wasn't bad enough that Dave Radford was too cowardly to fill out our survey, the endorsement of Mike Simpson should give you pause.
Congressman Simpson is one of the biggest RINOs in the Republican Party. Not only that, but he also supports various forms of gun control.
Of particular note is Simpson's support of Universal Background Checks.
He also supported dumping more gun owner's names in the government database system. Simpson is no friend of the 2nd Amendment.
It's clear that Radford's loyalties are with the elite class of the political realm and not the people he wishes to represent.
Another candidate, Kevin Cook, also told gun owners he didn't see the "need" to return the Idaho Second Amendment Alliance survey.
Cook is running against Adam Frugoli for an open Senate seat in District 30. District 30 covers parts of Idaho Falls and the city of Ammon.
The seat was vacated by retiring State Senator Dean Mortimer.
At a public forum put on by the "Idaho Falls Lunch-In," Frugoli went after Cook for not filling out the Idaho Second Amendment Alliance survey.
Cook replied that he didn't see the need because Idaho's Constitution protected gun rights enough. 
First, let's be clear that there is nothing stronger than the 2nd Amendment.
If you believe in the words "shall not be infringed" then there isn't anything stronger. But it is Cook's cavalier attitude toward Idaho's gun owners that is more concerning.
From my perspective, you can tell that this is an issue Cook is not familiar with. He appears to have been coached in some fashion for this response and it doesn't look good.
Earlier in the debate, he even dismisses concerns about Red Flag laws.
Red Flag laws are sweeping the country right now and Cook eventually tells the moderator he wants to focus on issues people care about.
I can't think of an issue gun owners care about more than knowing where candidates stand on Red Flag laws.
Mr. Frugoli, Cook's opponent, did fill out the Idaho Second Amendment Alliance survey with 100% pro-2nd Amendment answers.
The last candidate, Donavan Harrington, also refused to fill out the ISAA survey by claiming we would have beat him up no matter what.
Harrington is challenging Representative Julianne Young for District 31 Seat B. District 31 covers Bingham County with Blackfoot being the largest city in the District.
Rep. Julianne Young has been extremely helpful as a Representative in fighting for gun rights.
Last year she sponsored (with Rep. Christy Zito) HB 206, an expansion of Constitutional Carry! She also filled out our survey both times with 100% pro-2nd Amendment answers.
Additionally, Rep. Young also cosponsors each pro-2nd Amendment bill we have put forward.
However, Donavan Harrington refused to return the survey and posted a strange response in a Facebook video online.
Harrington falsely claims that the ISAA was going to beat him up no matter what.
This is a flat out lie as the ISAA has always posted the answers from all candidates, whether they are Republicans or Democrats. We don't "beat" anyone up.
We give voters the information and then the voters decide what to do with that information.
Harrington just chose to instead attack the ISAA.
In a Facebook comment, he followed up by saying he doesn't deal with "3rd party" surveys.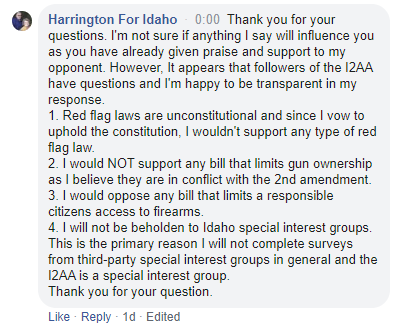 Mr. Harrington claims that he will not complete surveys from "third-party special interest groups."
Did Mr. Harrington fill out the NRA survey? If so, the NRA is also a "third-party special interest group.
If he did indeed fill out their survey, then Mr. Harrington is lying to his potential constituents. Liars have no place in the Idaho legislature.
Harrington likely has gun control stances he didn't want to be exposed and that is part of the reason he didn't return the survey.
However, there appears to be something more to these three candidates openly attacking Idaho's gun owners. 
They are likely being coached by someone else.
Their attacks all appear to have the same tone and the inference. Some of their answers resemble attacks from other people I know.
It remains to be seen if the refusal to inform their potential voters of their 2nd Amendment stances is going to be beneficial or detrimental to their campaigns.
Other candidates who have fought openly against the ISAA and Idaho's gun owners have seen their political dreams squashed.
Tom Loertscher, Julie VanOrden, and others from the southern part of Idaho also snubbed gun owners.
Those individuals are no longer in office.